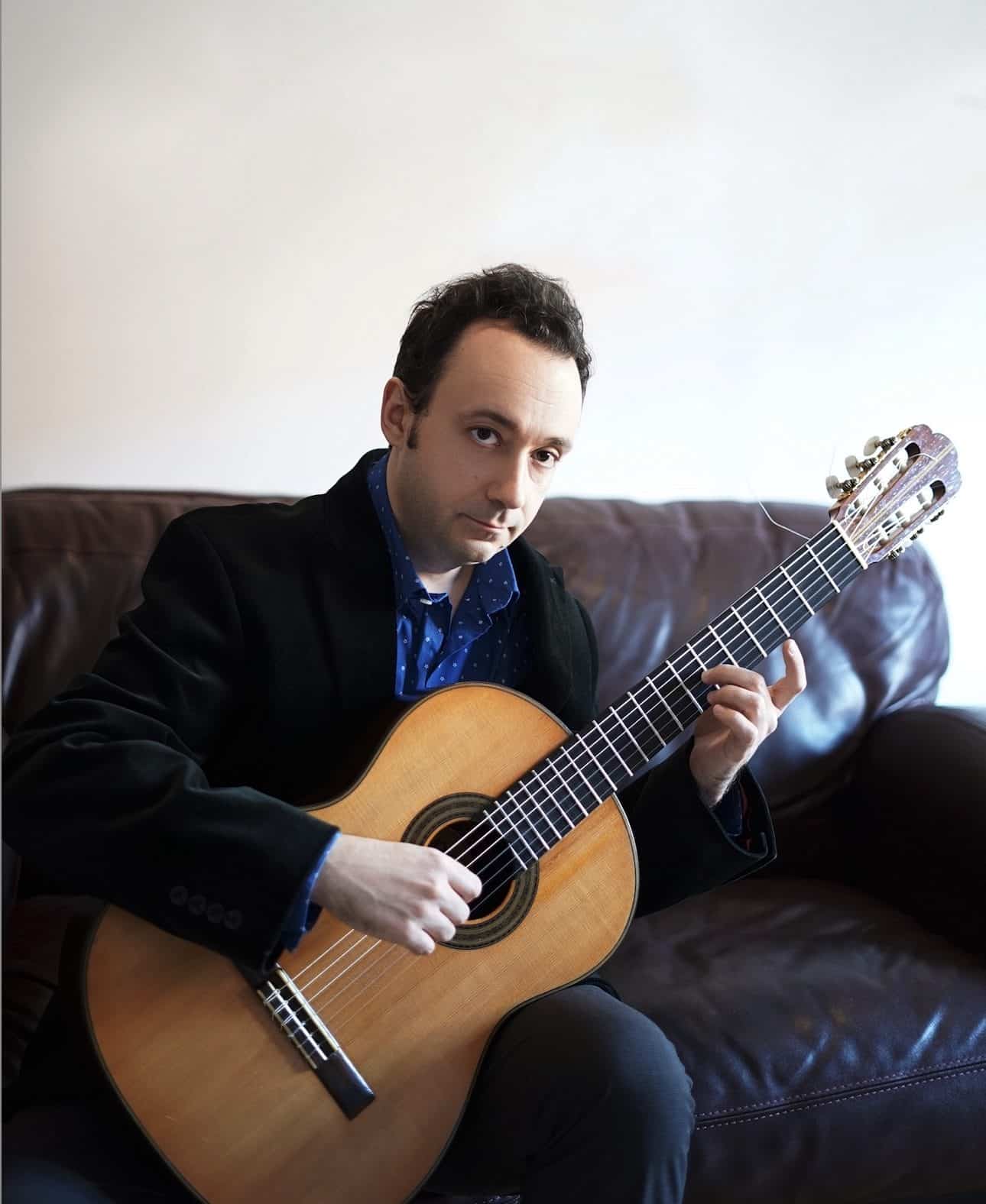 For the first concert of the 23-24 season, the SGM welcomes Jasmin Lacasse Roy!
PROGRAM:
Mile End Météores
Composer  : Jasmin Lacasse Roy
-En attendant l'heure doré
–Le rhapsodie en fer forgé
–Les chroniques nostalgique du comte Rachmanula 
–Les aventures du cowboy de la rue Clark à la tavern Mile End
–Mile End Winter
–Medley
–Mélodyvagation
*Intermission*
Classical guitar repertoire
-Spanish Dance no. 5 (Enrique Granados)
-Étude no. 11 (Heitor Villa Lobos)
-La fille aux cheveux de lin (Claude Debussy)
-Andante (Federico Moreno Torroba)
-Scherzo (Napoléon Coste)
BIOGRAPHIE:
Jasmin Lacasse Roy, Montreal classical guitarist, is a virtuoso who challenges the boundaries of the world of music. His career in classical guitar has been marked by notable achievements, including a first prize at the IFA Altamira Competition in Hong Kong and prizes in renowned competitions such as the University of Louisville Guitar Competition and the Rhode Island Guitar Competition.
Jasmin's journey in the world of music is a testament to her dedication and talent. Graduating with a master's degree from the Montreal Conservatory of Music, he continued to perfect his art by obtaining a doctorate in classical guitar performance at the University of Montreal. His commitment to his art shines through in each of his performances.
Jasmin's latest musical project, "Mile End Meteors", is the recording of a collection of 10 compositions and testifies to her deep connection with the Mile End district of Montreal. This eclectic recording is a love letter to a neighborhood that is teeming with musicians, artists, technological innovators and a uniquely vibrant atmosphere that has left an indelible mark on Jasmin's mind. Each track on the album is a musical painting that demonstrates Jasmin's commitment to creating music that resonates deeply with every listener.
Critics have praised Jasmin's work, describing it as "masterful guitar work" that transcends musical genres. Whole Note Magazine, in particular, has highlighted his ability to create musical impressions that overflow with imagination, technical skill and virtuosity.
Throughout her musical journey, Jasmin continues to explore new horizons, collaborate with other artists and embark on exciting projects. His dedication to the art remains unwavering, ensuring that every note he plays is as pure as possible.
Location
Informations
Salle Jacques-Hétu
Room F3080, Pavillon F, 3e étage (département de musique ) UQAM
Access by 1440 rue St-Denis, Montréal, QC H2X 3J8
Metro Berri-UQAM
Admission
Ticket price: 
-Regular : 30$
-Member of the SGM: 20$
-Student: 20$
-Student member of the SGM: 15$
-Student of the music departement of UQAM: FREE
Payment by credit/debit card now available at the door!
YOU CAN ALSO PURCHASE YOUR TICKET ONLINE NOW BY CLICKING HERE