---
The MGS present : Thierry Bégin-L. (Online!)
Program:
J.S. BACH
Piano Partita no.2 - BWV826
II. Allemande
V. ASENCIO
Collectici Íntim
I. La Serenor
II. La Joia
III. La Calma
IV. La Gaubança
V. La Frisança
A. C. JOBIM (Arr. R. DYENS)
Felicidade
THANKS TO OUR SPONSORS  AND PARTNERS :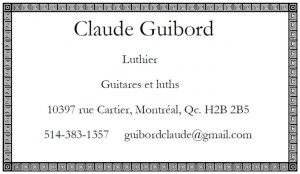 Thierry Bégin-L, a classical guitarist from Quebec, has won several prestigious competitions including nine international prizes from Spain, France, Belgium, Vietnam and Canada. He also obtained several distinctions in South Korea, Thailand, the United States, Mexico, and Austria. As a result, he was invited to perform on numerous world tours, namely in Spain, Argentina, Brazil, Mexico, Portugal, Italy, Finland, the US, and Canada.
With disarming ease, Thierry Bégin-L enchants his audiences through the sincerity of his play. The audacity, virtuosity and passion of his performances deliver a rare and memorable musical experience filled with color and humor.
"All those who had the opportunity, as I had tonight, to hear the performance of soloist Thierry Bégin-L, have been conquered by his poise, his breathtaking technique and his profound musicality. It is seldom that we see a soloist of this instrument being able to captivate an audience so brilliantly."
François Dompierre
www.facebook.com/dompierrecompositeur
April 3rd 2018
In 2018, he is supported by LOJIQ to present concerts in Vietnam. In 2016, he received a scholarship from The Sylva Gelber Music Foundation and a second one from the Conseil des Arts du Québec, allowing him to study in France for a whole year.
In February 2015, he released his first Cd album « Aquarelle » offering various songs from different countries.
Thierry Begin-L completed his bachelor's degree at UQAM and his master's degree at Université Laval and plays on a Stephane Ferré guitar.