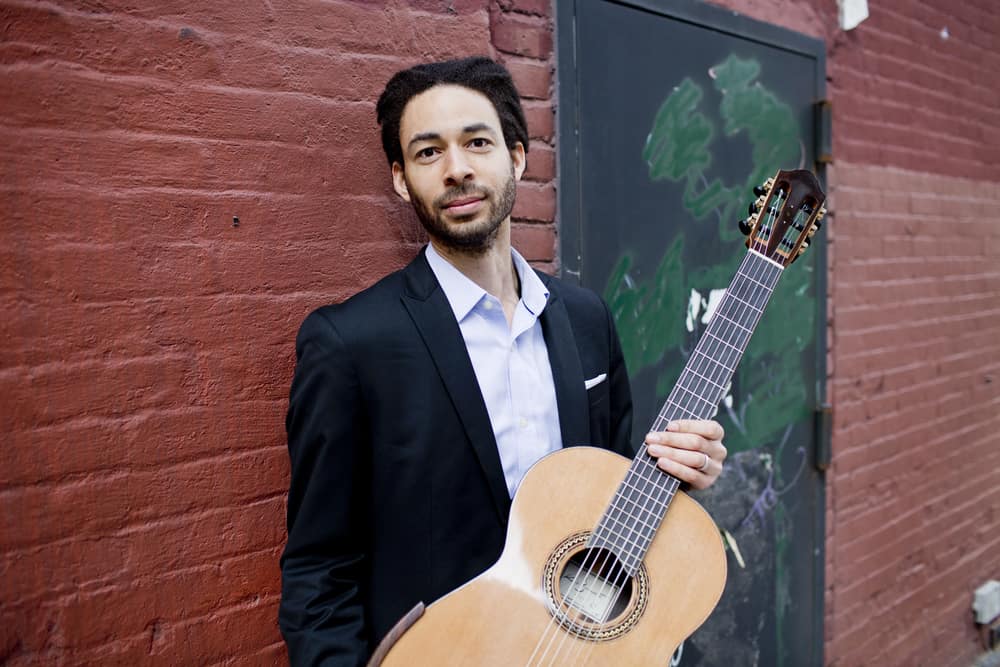 *CONFÉRENCE EN ANGLAIS*
Rejoignez le guitariste/compositeur américain Thomas Flippin alors qu'il discute des qualités sonores de plusieurs compositions de guitare classique sans doute excellentes et des outils que les compositeurs ont utilisés pour créer des œuvres aussi significatives. Grâce à l'analyse de diverses compositions de guitare classique et non classiques, nous pouvons découvrir les nombreuses façons dont les compositeurs du monde entier ont utilisé des dispositifs musicaux et techniques à bon escient, et également voir comment cela pourrait éclairer nos opinions sur ce qui différencie certaines œuvres d'art de autres.
Biographie (English only)
THOMAS FLIPPIN is an original and versatile voice in the world of contemporary music. Whether premiering new works with his pioneering classical guitar ensemble, Duo Noire; performing avant-garde art songs on the theorbo as part of Alicia Hall Moran's Motown Project; playing otherworldly electric guitar in Heartbeat Opera's The Extinctionist; or plucking the banjo in the American Repertory Theater's The Black Clown, Flippin's playing has been hailed as « lovely » (New York Times), and « spectacularly precise » (St. Louis Post-Dispatch). 
Flippin's 2018 album, Night Triptych, was released on New Focus Recordings as the culmination of a 2015 project he launched with the Diller Quaile School of Music to address the lack of women composers programmed in classical guitar concerts. Featuring new works exclusively by accomplished women composers, it was praised for being a « truly pathbreaking recording » (AllMusic), that is « astounding » for its « sheer musicality » and « goldmine of ideas and feelings" (Stereophile). It was named one of the Best Classical Music albums of 2018 by both All Music and I Care if You Listen.
Recent concert highlights include performances at Carnegie Hall, Lincoln Center, National Sawdust, The Metropolitan Museum, The Cleveland Orchestra, Beijing's Peking University, and the Art Institute of Chicago. Flippin has performed in concerts featuring MacArthur Fellow Jason Moran, Renee Fleming, Imani Winds, and members of Eighth Blackbird and the Emerson String Quartet. Upcoming projects include a new commission for Duo Noire from GRAMMY-nominated composer Nathalie Joachim. 
Flippin graduated with honors from the University of Chicago, where he was awarded the Olga and Paul Menn undergraduate composition prize. He then earned Master of Music and Artist Diploma degrees from the Yale School of Music. He studied composition in courses taught by David Lang, Martin Bresnick, and Michelle McQuade DeWhirst. Additional composition studies were with Ingram Marshall and John Anthony Lennon. His primary guitar teachers were Benjamin Verdery, Denis Azabagic, and Dr. Julie Goldberg. He is currently on faculty at the Diller Quaile School of Music in Manhattan
Pour plus d'informations sur le travail de l'artiste, cliquez ici.
Emplacement
Informations
Conférence en ligne sur Zoom!
Il s'agit d'une collaboration entre D'Addario, la SGM et la Faculté de musique de l'Université de Montréal. 
Entrée
Gratuit!
Pour accéder à la conférence:  cliquez ici 
Mot de passe: 429556