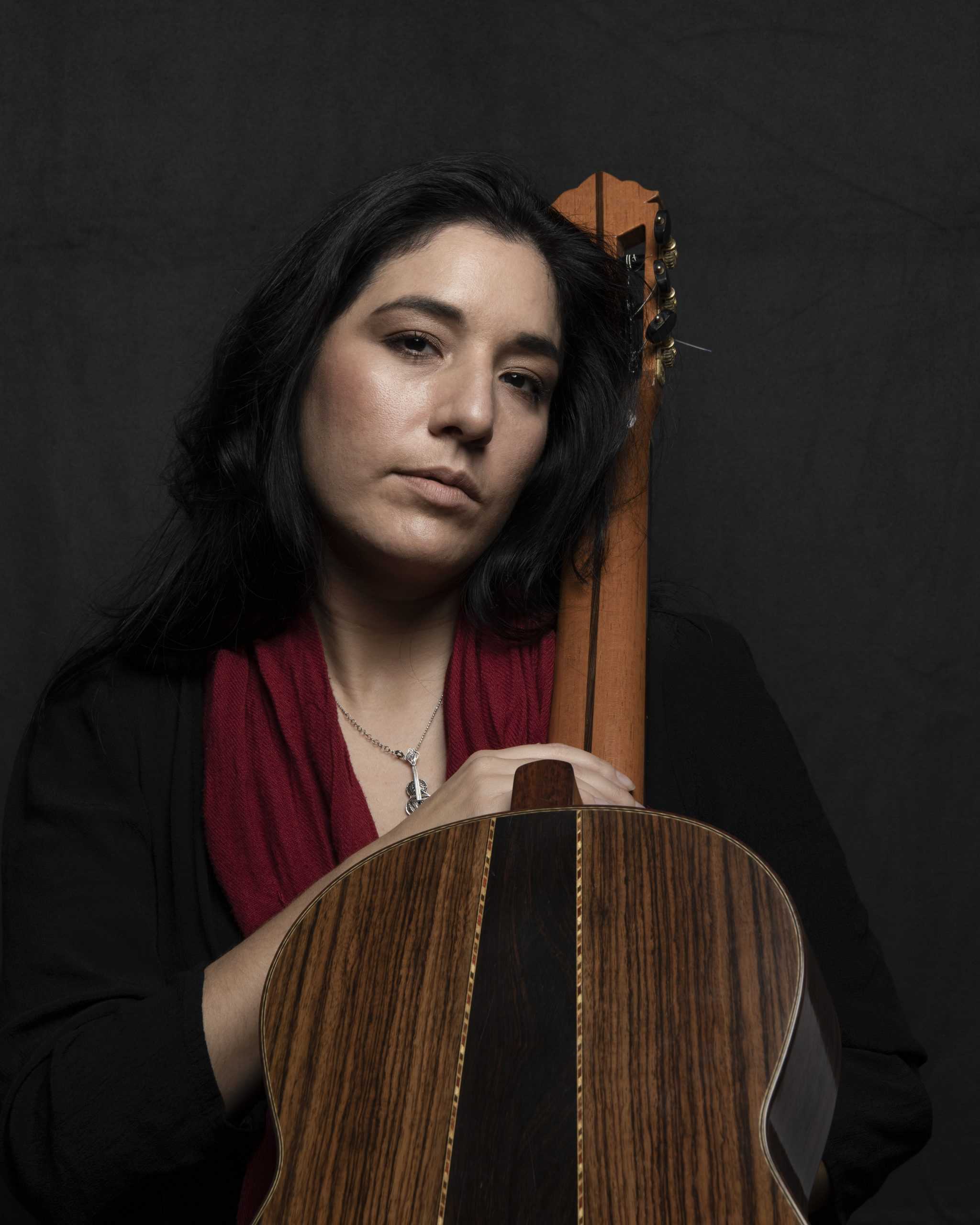 Elodie Bouny was born in Caracas (Venezuela) and growing up in Paris, where he undertakes a complete classical study course, focused on the study of classical guitar at the Boulogne-Billancourt Conservatory (Paris). He obtained his final diploma in 2000, with the highest mention unanimously. Then, he improves with Pablo Márquez at the Conservatory of Strasbourg, where he finds the opportunity to expand his knowledge and open his field of work, in particular, to old music and improvised music. He finished this second course in 2005, when he graduated, obtaining his D.E.M. (Diploma of Musical Studies). During these years of study, he complements his training following numerous MasterClasses with eminent personalities and participates in classes related to South American music, integrating for a few months the courses of the National Folklore Conservatory in Buenos Aires, directed by guitarist Juan Falú. She holds a Master's Degree in Music Education from the School of Music at the Federal University of Rio de Janeiro (2012), and a PhD in Creative Processes from the same institution (2019). In 2013, his master's dissertation is published in the New Academic Editions with the title: Classical guitarist and popular guitarist: Investigating differences in musical education (ISBN 978-3-639-68569-5).
She performs at festivals and series (MIMO; Brazil, Villa-Lobos Festival; Brazil, Guitar Movement; Brazil, UFRGS Guitar Festival; Brazil, Guitarras del Mundo Festival; Argentina, Entrecuerdas Festival; Chile, Besançon International Music Festival ; France, Belo Horizonte International Guitar Festival; Brazil, Assad Festival, Brazil; Londrina Festival, Brazil; Campos do Jordão Festival, Brazil; among others ...) in Brazil and abroad as a soloist and is invited to be part of important competition stalls, such as the Violão Sem Fronteiras Competition, from the Assad Festival; BDMG Instrumental Contest; Alliance Française Corner Contest, in addition to the Novas Contest, which it organizes.
She was awarded in several international competitions: 3 ̊ prize in the ADMIRA (GBR) competition, in 2001; 1 ̊ UFAM contest award, in 2003; 2 ̊ prize from the Eschende contest (HOL), in 2006; 2 ̊ AV-Rio contest prize (Rio de Janeiro), in 2009; 1 ̊ prize in the BRAVIO contest (Brasília) in 2009 and 3 ̊ prize in the Villa-Lobos Conservatory contest (São Paulo) in 2009 As a composer, she receives orders from the Brazilian guitarist Gilson Antunes (Et si le temps passe, Editions Les Productions d'Oz), and from Mexican guitarist Alan Juarez Bardenas (Que lo diz la luna; Editions Soldano), from the French guitar quartet Paris Guitar Quartet (Déjà-Vu, Editions Soldano) and the Conservatory of Music of Saint-Michel-sur-Orge for guitar students (Sketches hachés, for guitar ensemble). In 2020, FUNARTE / UFRJ ordered a string orchestra suite in order to help create a new repertoire of youth orchestras in Brazil (Projeto SINOS).          Orchestrated several pieces in partnership with Yamandu Costa (Passeios suite, for seven guitar, accordion and orchestra; Fronteira concert, for 7 guitar and orchestra, among others), which were played in prestigious rooms (Salle Pleyel, in Paris; Teatro São Pedro, in Porto Alegre; Teatro Cine Odeon, in Cuiabá; at Rotkäppchen Sektkellerei, in Leipzig; La Philharmonie, in Paris, Municipal Theater of São Paulo, Sala Cecilia Meireles) under the direction of Antônio Borges-Cunha, Leandro Carvalho, Kristjan Jarvi and Alondra de La Parra and Roberto Minczuk.
His first CD, Terra Adentro, dedicated to the Latin American repertoire, was released in 2011 by the Rio de Janeiro label A Casa Produções and has artistic production by Yamandu Costa. He currently develops several projects: Iroko Trio (with Marcelo Caldi and Carla Rincon), Duo Andrea Ernest-Dias and Elodie Bouny, and plays punctually with Yamandu Costa de duo, in addition to his work as a soloist. Member of the Guitars Camerata from 2012 to 2016. She is the director of the guitar composition contest "Concurso Novas" which is in its fourth edition in 2019. Recently, the São Paulo Municipal Theater Orchestra commissioned him a piece for soprano and orchestra (Meia Lágrima) that was premiered in May 2019 by soprano Marly Montano under the conduction of Roberto Minczuk. His piece for guitar quartet Déja Vu was selected for the XXIII Biennial of Contemporary Brazilian Music and had a Brazilian debut in November 2019 at Sala Cecilia Meireles. She was a substitute guitar teacher at the Institute of Arts and Design at the Federal University of Juiz de Fora in 2019. In 2022 his opera Men of paper will be premiered, which was commissioned by the Municipal Theater of São Paulo.
DISCOGRAPHY 2008 - Mafuá - Yamandu Costa - recording direction - Biscoito Fino 2009 - CD of the III Guarulhos Instrumental Festival - playing Mimosa, by Yamandu Costa - independent production 2010 - Bordadeira - Beth Marques - recording direction - Rob Digital 2011 - Terra Adentro - Elodie Bouny - solo - A Casa Produções 2014 - Bailongo - Yamandu Costa and Guto Wirtti - recording direction - independent production 2014 - News 1 - several Brazilian guitarists - interpreter of his own compositions and recording director - NoMadMusic 2014 - Novas 2 - several Brazilian guitarists - self-composed interpreter and recording director - NoMadMusic 2014 - CD of the Young Guitar Talents Brazilian Movement - interpreting Conversa das Flores, by Elodie Bouny - independent production 2014 - CD Toccata a amigos - Yamandu Costa, Bebê Kramer, Luis Barcelos and Rogério Caetano - recording direction - Biscoito Fino (Winner of the Music Award 2016 in the Best Group and Best CD categories) 2014 - Yamandu Costa and Orchestra of Mato Grosso - recording direction -Kuarup 2015 - Calendar of (A) fetus - Carlos Walter - recording direction - independent production 2015 - Luiz Carlos Borges 50 Years of Music (DVD) - playing two pieces by Luis Carlos Borges - Acit Label 2015 - Suítes do Brasil - Camerata de Violões - instrumentalist, arranger and recording director - independent production 2016- Current - Independent- Cainã Cavalcante- Recording direction 2017 - Novas 3 - several Brazilian guitarists - recording director - NoMadMusic - independent 2017 - Recanto - Independente - Yamandu Costa - Co-Production, Direction of recording and recording on one of the tracks 2018- Classical Strings- DVD Camerata for Guitars - Recording Direction
Location
Informations
Join us for this workshop on the guitar composition process, given by Elodie Bouny.
(ACTIVITY IN FRENCH ONLY)
Admission
Free! Online on Zoom.