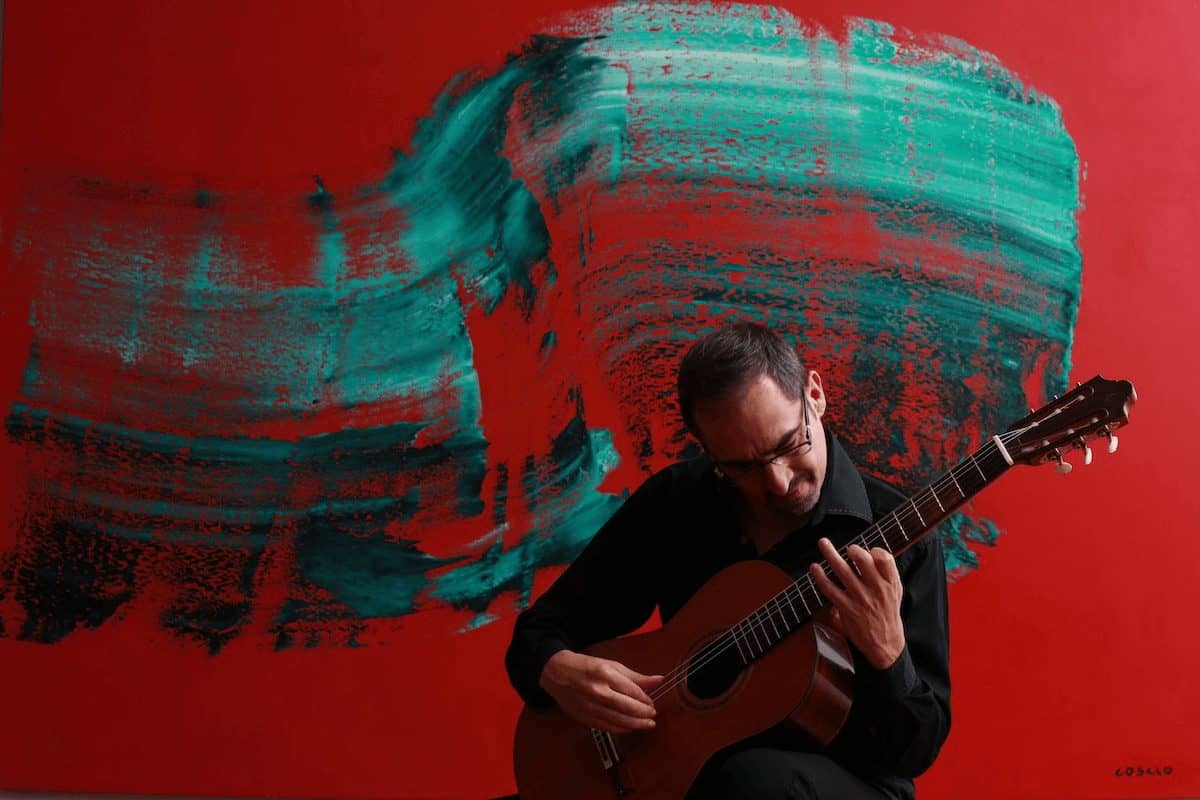 Praised for his musical intelligence and remarkable technique, the Argentinian guitarist performs a program of Spanish works by CASSADÓ, LLOBET, LÓPEZ, CHAVARRI, PONCE, and SOR.
Biography:
A pioneer in daring repertoires, exploring as successfully early works as the rich literature of the 20th and 21stcenturies, or the folk music of northwestern Argentina, land of his birth, Pablo Márquez is one of today's most sensitive interpreters and talented guitarists. His musical intelligence and peerless technical skills make him a creator much sought after by living composers.
His name is always associated with a unique sound, as evidenced by the numerous recordings for ECM and other labels. Each of his registers has become a reference, whatever the repertoire engraved. This is illustrated by awards such as the Grand Prix du Disque Charles Cros or the Prix Amadeus, as well as by the countless press reactions.
Thus, on the subject of Musica del Delphin, his debut album with ECM –the first ever classical guitar recording in that label, which caused a sensation in 2007-, the New York Times wrote: Pablo Márquez makes an eloquent case of Luys de Narváez's mastery of counterpoint and sense of virtuosity. Regarding Die Nacht, his Schubert disc with Anja Lechner, the Kurier of Vienna affirmed that it was the most beautiful publication of the autumn, while Die Zeit said: Anja Lechner and Pablo Márquez enlight the night with Schubert. On his side, El Cuchi bien temperado –dedicated to the music of his fellow countryman Gustavo Leguizamón- was among the 100 best recordings (all genres included) of 2015, selected by the American journalist Ted Gioia.
His discography also includes first recordings of works for guitar and orchestra such as Chemins V by Berio (with Dennis Russel Davies and the Orchestra della Svizzera italiana), A fuoco by Luca Francesconi (with Susanna Mälkki and the Ensemble Intercontemporain) and Hanbleceya by Zad Moultaka (with Lorraine Vaillancourt and the Nouvel Ensemble Moderne of Montreal). A second recording live of Berio's Chemins Vwith the WDR Sinfonieorchester of Cologne and Jean-Michaël Lavoie was awarded with the prestigious Preis der deutschen Schallplattenkritik.
Pablo Márquez studied guitar in Argentina with Jorge Martínez Zárate and Eduardo Fernández. At the age of twenty he unanimously won the Villa-Lobos competition in Rio de Janeiro, as well as the Concours de Radio France in Paris, the most prestigious guitar competition of that time. A complete musician, he studied conducting with Rodolfo Fischer and Peter Eötvös, and followed the teachings of the legendary pianist György Sebök, who would deeply mark his artistic development.
His career flourished in more than 40 countries, being acclaimed in the most beautiful halls (Concertgebouw in Amsterdam, National Concert Hall in Taipei, Teatro Colón in Buenos Aires, Théâtre du Châtelet in Paris, Elbphilharmonie in Hamburg…), in major festivals (Aix-en-Provence, Avignon, Ultraschall in Berlin, Musica in Strasbourg, San Sebastián…), both in recital and in partnership with Patricia Kopatchinskaja, Dino Saluzzi, María Cristina Kiehr, Rosamunde Quartett, Anne Gastinel, Mario Caroli. He appears as a soloist with the Radio France Philharmonic Orchestra, the Bavarian Radio Orchestra, the Nordwestdeutsche Philharmonie, the Orquesta Sinfónica Nacional de Colombia and the Orquesta de Valencia.
He worked in collaboration with the greatest composers of our time, such as Luciano Berio, Mauricio Kageland György Kurtág. On the occasion of Berio's 70th birthday, Pierre Boulez invited him to perform the Italian composer's Sequenza XI, a work of which he has become the favoured interpreter. The New Music being at the center of his priorities, he has prompted no less than thirty works by composers such as Zad Moultaka, Martin Matalon, Fuminori Tanada, Oscar Strasnoy, Javier Torres Maldonado, Ramón Lazkano or Arthur Kampela.
Pablo Márquez is not only a sought-after virtuoso, but also a highly demanded teacher. His class at the Musik-Akademie in Basel is one of the most respected in the world and he gives master-classes all around the world. He received the Konex Prize in Buenos Aires in recognition of his entire career.
Location
Informations
Salle Bourgie du Musée des beaux-arts de Montréal
1339 Rue Sherbrooke O, Montréal, QC H3G 1G2
Admission
General Public: $54
Museum Member: $46
34 and under: $28