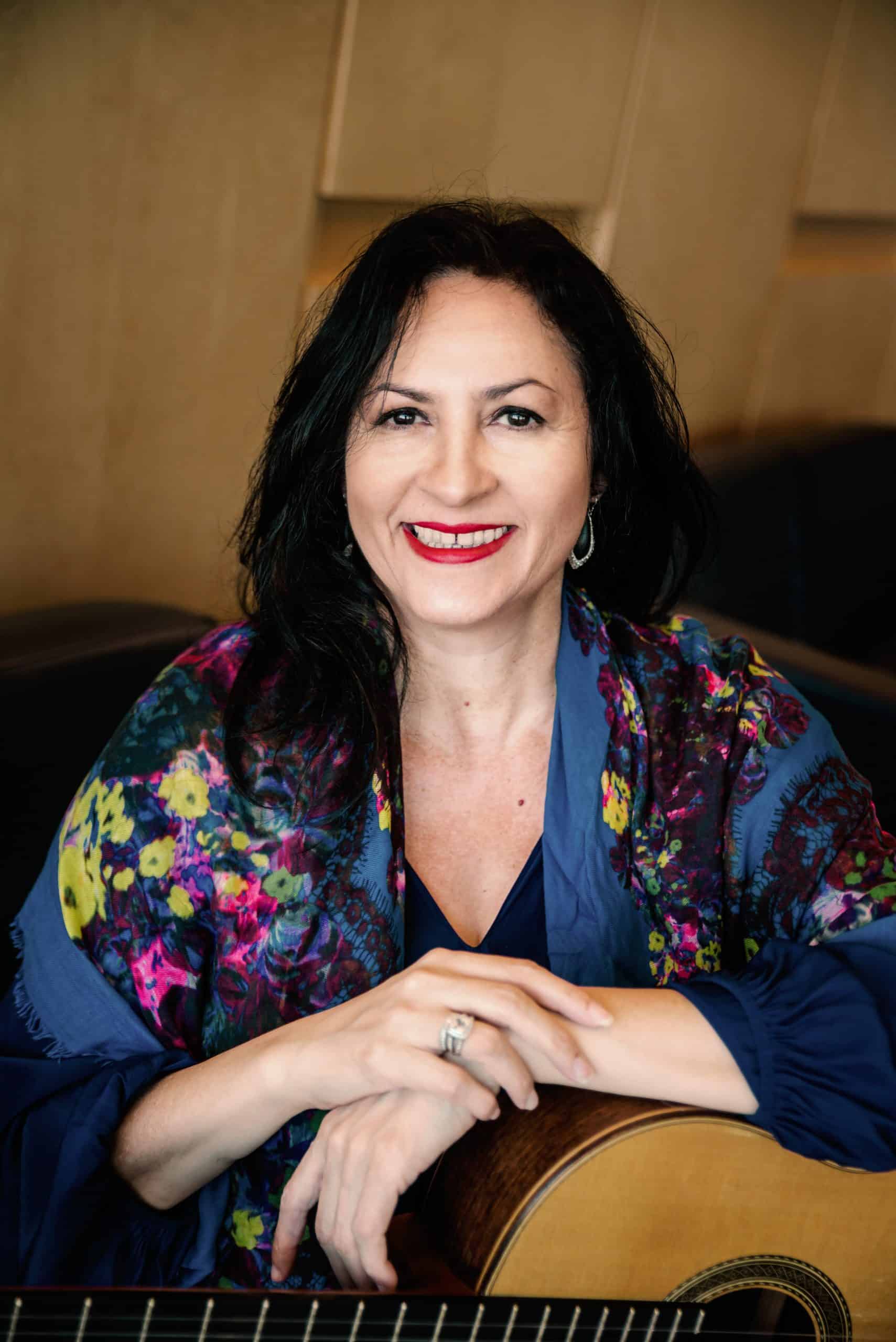 Biography: 
Iliana Matos has an extraordinary career spanning more than three decades that has earned her a place among the world's pre-eminent guitarists. She has performed extensively throughout North and South America, Europe, Africa, and Asia. "Her name deserves to go down in guitar history as one of the great players of our time" (Classical Guitar Magazine).
As part of her tour celebrating thirty years of performing, which she began in 2016, Matos performed in nineteen cities in China, including a concert at the Shenyang International Guitar Festival. The tour also featured concerts in twenty-three North American cities and a seven-city tour in Mexico. Among the highlights were recitals for the International Guitar Festival of San Sebastián in Puerto Rico, the Texas A&M International Guitar Symposium, and the New Orleans International Guitar Festival.  The 2022-23 season will see Matos performing for guitar events including the University of Rhode Island Guitar Festival and the Madrid International Guitar Festival and touring Canada. 
Cuban-born Iliana Matos has lived in Canada since 2013 and has become a favourite in the Canadian guitar scene. Her numerous Canadian appearances include the Montreal Guitar Society, the Sauble Beach Guitar Festival, the Toronto Guitar Society, GuitarFest West in Calgary, and the Vancouver Classic Guitar Society.  
In 2006 Matos released her acclaimed CD Angels in the Street, "a match-made-in-heaven recording that is about as perfect as guitar records get... she simply, radiantly shines, a virtuoso in service to the music" (American Record Guide). This album found a place in the book Guitar's Top 100 by musicologist Enrique Robichaud. "It's impossible while listening to 'Angels' to believe that her name will not someday ring the same peal of recognition as does Bream and Williams" (Minor7th.com).
Her ensemble recordings include the 2020 Sandunga with the Cuban Guitar Quartet and the James Lentini Concerto for Guitar and Strings recorded with the Zagreb Festival Orchestra. In 2019 she was featured playing Sonata Clásica on the album Manuel Ponce: The Legend by the Legends.  
With her love of contemporary music and desire to develop the guitar repertoire, Iliana Matos has premiered works by numerous composers, including Eduardo Morales, Tomás Marco, Zulema de la Cruz, Gabriel Estarellas, Flores Chaviano, Ileana Pérez, Madays Andino, Ñico Rojas, Yalil Guerra, Luis Mario Ochoa and Eduardo Martín.
Matos made history as the first woman to win the prestigious S.A.R. La Infanta Doña Cristina International Guitar Competition, and as the only person to win the special prize for Best Interpretation of Spanish Music in two consecutive years, 1995 and 1996. She was a prize-winner at eleven major international competitions, including first prizes at the Andrés Segovia, Luys Milán, and Manuel Ponce international guitar competitions. Of her talent, the legendary guitarist Maria Luisa Anido said: I am impressed by your wonderful guitarristic art, and I am proud to know that a woman (and a Cuban woman!) came to such a degree of artistic perfection."  
As a dedicated educator Iliana Matos is in-demand as a guest lecturer. Recent engagements include masterclasses at the National Music Conservatories in Ecuador and Mexico, Soochow University in Taiwan, and the University of Minnesota.  Since 2017 Matos has been the studio guitar instructor at the University of Lethbridge in Alberta where she founded and developed the graduate program for guitar performance. She is the President and Artistic Director of the newly formed Lethbridge Classical Guitar Society. From 1995-2013 Matos was based in Spain where she was active in developing the next generation of guitarists through her work teaching at the Conservatory of the Balearics, the Conservatory of Salamanca, and the Royal Music Conservatory of Madrid. 
Iliana Matos graduated from the National School of Art in Havana where she studied with José Angel Pérez Puente. She earned a Bachelor of Music (Classical Guitar Performance) from the Superior Institute of Havana (where her teachers included Rey Guerra, Miguel Bonachea and Jesús Ortega), and received a Special Diploma given to the most outstanding graduate for her artistic creative work. She continued her studies with Gabriel Estarellas at the Royal Music Conservatory of Madrid and graduated with a Master of Music Degree from de Extremadura University under Ricardo Gallén.
Program:
A Latin Music Celebration
José Antonio (Ñico) Rojas (1921-2008) 

Algo para Iliana*

Pipo y Arcaño (Danzón)

Elegía a Benny Moré (Son)
Saldiguera y Virulilla (Rumba)
Antonio Lauro (1917-1986)

Andreína

Natalia

El Marabino
Astor Piazzolla (

1921-1992)
 

Hector Villa-lobos (1887-1959 )
 

Eduardo Martin (1956-)

Divertimentos Tropicales:

Inevitable

Chacumbele
Lobisón
Agustín Barrios Mangoré (1885-1944)

La Catedral:

Preludio Saudade

Andante Religioso
Allegro Solemne
*Dedicated to Iliana Matos 
Location
Informations
Salle des boiseries (J-2805) Pavillion Judith-Jasmin, UQAM 405,  Ste-Catherine street, East
Berri-UQAM (lignes orange, verte et jaune)
Admission
Ticket price: 
-Regular : 40$
-Member of the SGM: 25$
-Student: 22$
-Student member of the SGM: 15$
-Student of the music departement of UQAM: FREE
Payment by credit/debit card now available at the door!
YOU CAN ALSO PURCHASE YOUR TICKET ONLINE NOW BY CLICKING HERE