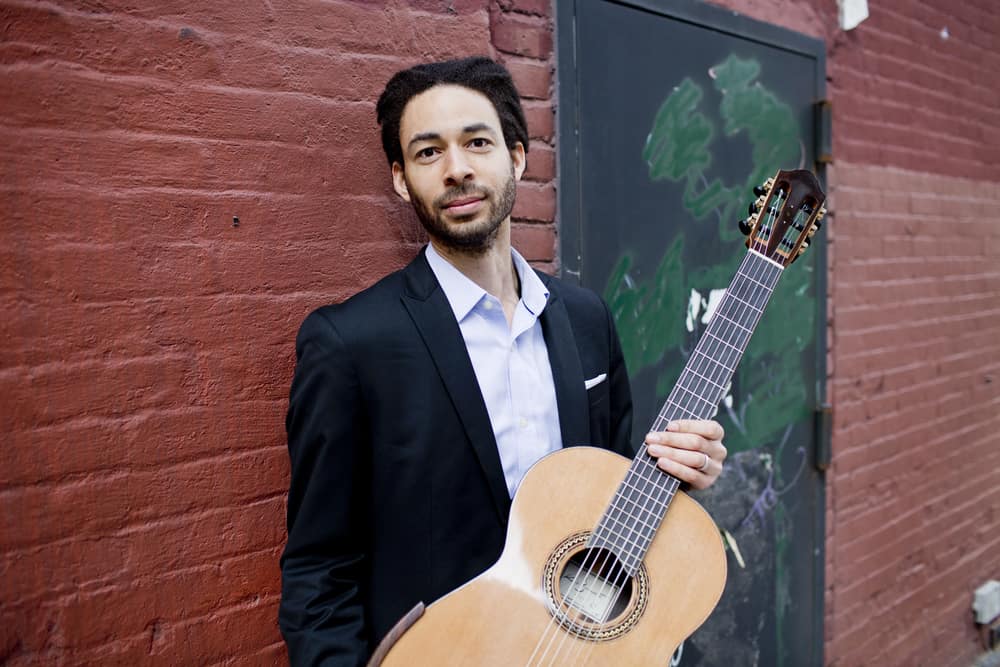 "Greatness in Classical Guitar Composition."
Join U.S. guitarist/composer Thomas Flippin as he discusses the sonic qualities of several arguably great classical guitar compositions and the tools that composers used to create such meaningful works. Through analysis of various classical guitar and non-classical compositions, we can uncover the many ways that composers around the world have employed musical and technical devices to great effect, and also see how that might inform our opinions of what differentiates some works of art from others.
Biography
THOMAS FLIPPIN is an original and versatile voice in the world of contemporary music. Whether premiering new works with his pioneering classical guitar ensemble, Duo Noire; performing avant-garde art songs on the theorbo as part of Alicia Hall Moran's Motown Project; playing otherworldly electric guitar in Heartbeat Opera's The Extinctionist; or plucking the banjo in the American Repertory Theater's The Black Clown, Flippin's playing has been hailed as "lovely" (New York Times), and "spectacularly precise" (St. Louis Post-Dispatch). 
Flippin's 2018 album, Night Triptych, was released on New Focus Recordings as the culmination of a 2015 project he launched with the Diller Quaile School of Music to address the lack of women composers programmed in classical guitar concerts. Featuring new works exclusively by accomplished women composers, it was praised for being a "truly pathbreaking recording" (AllMusic), that is "astounding" for its "sheer musicality" and "goldmine of ideas and feelings" (Stereophile). It was named one of the Best Classical Music albums of 2018 by both All Music and I Care if You Listen.
Recent concert highlights include performances at Carnegie Hall, Lincoln Center, National Sawdust, The Metropolitan Museum, The Cleveland Orchestra, Beijing's Peking University, and the Art Institute of Chicago. Flippin has performed in concerts featuring MacArthur Fellow Jason Moran, Renee Fleming, Imani Winds, and members of Eighth Blackbird and the Emerson String Quartet. Upcoming projects include a new commission for Duo Noire from GRAMMY-nominated composer Nathalie Joachim. 
Flippin graduated with honors from the University of Chicago, where he was awarded the Olga and Paul Menn undergraduate composition prize. He then earned Master of Music and Artist Diploma degrees from the Yale School of Music. He studied composition in courses taught by David Lang, Martin Bresnick, and Michelle McQuade DeWhirst. Additional composition studies were with Ingram Marshall and John Anthony Lennon. His primary guitar teachers were Benjamin Verdery, Denis Azabagic, and Dr. Julie Goldberg. He is currently on faculty at the Diller Quaile School of Music in Manhattan
Visit the artist's website: https://thomasflippin.com 
Location
Informations
Online conference (on Zoom)!
This is a collaboration between the D'Addario strings, the MGS and the Faculté de musique of the Université de Montréal.
Admission
FREE!
To access to the conference: click here 
Password: 429556