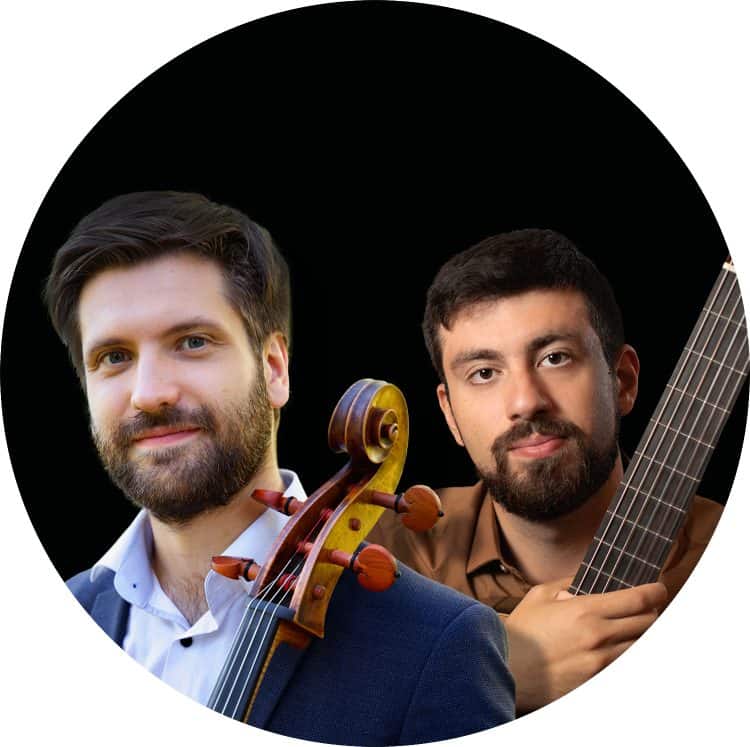 Program
Carlos Gardel (1890-1935)
Por una Cabeza
(Arr. Renaud Côté-Giguère et Dominique Beauséjour-Ostiguy)
Duke Ellington (1899-1974)
In a Sentimental Mood
(Arr. Renaud Côté-Giguère et Dominique Beauséjour-Ostiguy)
Jean-Sébastien Bach (1685-1750)
Sonate no 2 en ré majeur, BWV 1028
III. Andante
IV. Allegro
Alberto Ginastera (1916-1983)
Danzas Argentinas, opus 2: Danza de la moza donoza
(Arr. Renaud Côté-Giguère and Dominique Beauséjour-Ostiguy)
Gabriel Fauré (1845-1924)
Trois mélodies, op. 7: "Après un rêve"
(Arr. Renaud Côté-Giguère)
Béla Bartok (1881-1945)
Six Danses populaires roumaines, Sz. 56, BB 68
(Arr. Renaud Côté-Giguère and Dominique Beauséjour-Ostiguy)
INTERMISSION (15 minutes)
Astor Piazzolla (1921-1992)
Les quatre saisons de Buenos Aires
I. Primavera Porteña
II. Verano Porteño
III. Otoño Porteño
IV. Invierno Porteño
(Arr. Sergio Assad and Dominique Beauséjour-Ostiguy for the cello part
Astor Piazzolla (1921-1992)
L'histoire du tango
I. Café 1930
III. Nightclub 1960
(Arr. Dominique Beauséjour-Ostiguy for the cello part)
Renaud Côté-Giguère (b. 1990), Dominique Beauséjour-Ostiguy (b. 1994)
Hommage à Piazzolla
BIOGRAPHIES
Christ Habib, guitar
With an exciting and promising carreer in expansion, Christ Habib is becoming well known as an incredibly passionate musician who displays perseverance, discipline, and enthusiasm. This musician has distinguished himself on several occasions, particularly through numerous competitions that he has won or of which he has been classified as a finalist, such as the first prize in classical guitar at the National Music Festival (FCMF) in Saskatoon (2019).
As well as stand-out appearances in numerous national and international competitions, Christ was recently named one of Canada's Top 30 Classical Musicians Under 30 (2020 edition). In October, 2020 he made his debut with the National Arts Centre Orchestra, with renowned conductor Alexander Shelley in a performance of Canadian composer Jacques Hétu's Concerto for Guitar and Strings, Op. 56.
In 2019, he capped-off 12 years of studying at the Gatineau Conservatory of Music under the tutelage of Patrick Roux with a Master's Degree and the Prize in Chamber Music. He also had the chance to perfect his art by studying with many Masters throughout the Boston International Guitar Academy and the Domaine Forget International Academy.
---
Dominique Beauséjour-Ostiguy, Cellist and Composer
Recipient of the 2018 Prix d'Europe, the 2021 Choquette-Symcox Award and the 2017 Peter Mendell Award, Dominique Beauséjour-Ostiguy was ranked among the "30 hot Canadian classical musicians under 30" by CBC Music in 2018. Two-times first prize winner at the Canadian Music Competition, he has performed as a soloist with many orchestras such as the Laval Symphony Orchestra and the Drummondville Symphony Orchestra. Dominique is a founding member of the Trio de l'Île and the Andara String Quartet performing throughout North America and Europe. He also joined the renowned Hochelaga Trio in 2018.
As a composer, Dominique won 3rd prize in the "Domicile Adoré" competition organized by the Fondation Jeunesses Musicales Canada in 2020. The Laval Symphony Orchestra also performed two of his compositions under the baton of Alain Trudel. He is a founding member of BOA experience, an instrumental music project of original compositions. His album "Aux deux hémisphères" in duet with pianist Jean-Michel Dubé presents all of his classical compositions for cello and piano.
Dominique holds a master's degree in performance from the University of Montreal, where he studied with Yegor Dyachkov. He has attended several master classes, notably with Mischa Maisky, Alisa Weilerstein, Jean-Guihen Queyras, Hans JorgenJensen, Raphaël Wallfisch, Philippe Muller and Richard Aaron.
He plays on a David Tecchler cello (1704) and a Pierre Simon bow (c. 1855), kindly provided to him by Canimex Inc. of Drummondville.
Location
Informations
Salle Jacques-Hétu
Room F3080, Pavillon F, 3rd floor (Music department) UQAM
Access by 1440 rue St-Denis, Montréal, Metro Berri-UQAM
Admission
Ticket prices: 
-Regular : 30$
-Member of the SGM: 20$
-Student: 20$
-Student member of the SGM: 15$
-Student of the music departement of UQAM and age 15 and under: FREE
Payment by credit/debit card now available at the door!
YOU CAN ALSO PURCHASE YOUR TICKET ONLINE NOW BY CLICKING HERE