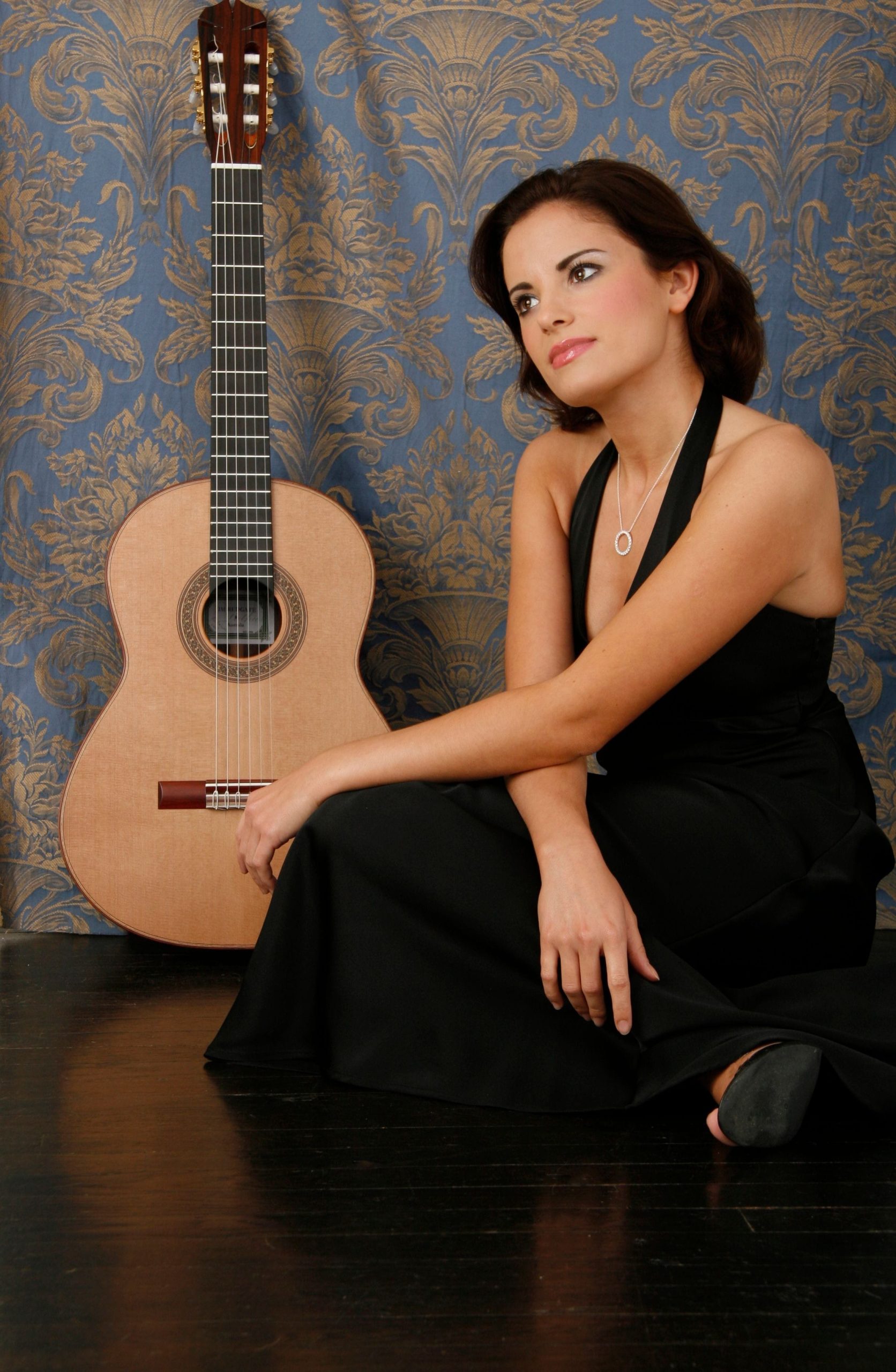 Programme:
J. S. BACH Suite pour violoncelle n° 1 en sol majeur, BWV 1007 (transcr. par Valter Despalj)
SOR Introduction et Variations sur un thème de Mozart, op.9
CASTELNUOVO-TEDESCO Capriccio Diabolico, op. 85 (Omaggio a Paganini)
Leo BROUWER Un Dia de Noviembre
TÁRREGA Recuerdos de la Alhambra
MANGORE La Catedral
ALBÉNIZ
Grenade
Asturies
D. SCARLATTI
Sonate en ré mineur, K. 213
Sonate en ré mineur, K. 1
Sonate en la majeur, K. 322
Biographie: (en anglais uniquement)
Ana Vidovic is an extraordinary talent with formidable gifts taking her place among the elite musicians of the world. She is known for her beautiful tone, precise technique, well-defined phrasing and thoughtfulartistry and musicianship.

Her international performance career includes frequent recitals, concerto engagements and festival appearances in most of Europe's cultural destinations including Amsterdam, Brussels, Budapest, Copenhagen, London, Oslo, Paris, Rome, Salzburg, Vienna, Warsaw and Zagreb. Her tours have alsotaken her to Australia, Brazil, Israel, Japan, Korea and Mexico. Equally impressive is the fact that she has recorded 6 CDs. Mel Bay Publications hasreleased Ana Vidovic's DVD entitled "Guitar Artistry in Concert," a journey through the music of Torroba, Piazzolla and Pierre Bensusan, Sergio Assad,Stanley Myers, Villa-Lobos and Agustin Barrios Mangoré, and "Guitar Virtuoso," a performance of works by Bach, Torroba, Paganini and Walton.

During recent seasons Ms. Vidovic's prolific career has taken her to London where she has performed at King's Place twice and returns in Fall, 2022; inEuropean cities including Bordeaux, Paris, Vienna's Musikverein, Amsterdam's Concertgebouw, Avezzano and Pescara (Italy), Aachen, Ansbach, Baden-Baden and Ettlingen (Germany), Japan, Sao Paulo (Brazil), Adelaide, Brisbane and Sydney (Australia), Hong Kong, Istanbul, Tel Aviv, in addition to the Canadian cities of Calgary, Edmonton, Kitchener Toronto and Winnipeg, She has performed throughout the U.S. at major performance venues in Austin, Baltimore, Bethesda (The Strathmore), Boston, Champaign, IL (KrannertCenter), Cleveland, Dallas, Dayton, Ft. Worth, Houston, the Hawaiian Islands, Los Angeles, Milwaukee, Portland (OR), St. Louis, Salt Lake City,San Francisco, Santa Fe, Seattle, Washington, DC and New York City where Ms. Vidovic has performed in recital at the New York Guitar Seminar at MannesCollege of Music, Baruch College, 92nd St. Y and Le Poisson Rouge. Her dazzling concerto performances have taken place with many orchestras including Asheville Symphony, Bangor Symphony, Erie Philharmonic, Hartford Symphony, Illinois Philharmonic, Knoxville Symphony, Missoula Symphony, Rogue Valley Symphony (Oregon), Orchestra Iowa, West Virginia Symphony, Wheeling Symphony, Wisconsin Chamber Orchestra; and with the Slovene Orchestra and Zagreb Philharmonic. Festival appearances include Le Domaine Forget (Quebec), International Guitar Festival (London), Big Sky, Montana, Caramoor Festival (Katonah, NY), Colorado Music Festival and Lake Tahoe Summerfest.

During the Covid-19 pandemic, many of Ms. Vidovic's engagements were redesigned to take place including the 92nd St Y in NYC, Philadelphia andin San Francisco (Omni Concerts) where she performed at the venue in a live-streamed concert. Her 2021-22 season was highlighted by returns toNYC's 92nd Street Y for an in-person concert with live audience, as well as in San Francisco, Austin, St. Louis, Philadelphia and San Francisco. Ms. Vidovic's on-line masterclasses in Athens during the pandemic continue on a frequent basis and she will perform and teach in Athens in 2022-23.Summer 2022 included the Madrid International Guitar Festival, the Mediterranean Guitar Festival in Barcelona and at the New Ross Festival in Wexford, Ireland. In addition to her return to London in Fall 2022, Ms. Vidovic performs at the Drôme Guitar Festival in Valence, France; Trento, Italy, and a tour in Spain. Her USA engagements in 2022-23 include theAsheville Symphony, Austin Symphony, Elgin Symphony, (IL), Reading (PA) Symphony, Victoria (TX) Symphony; recitals in San Francisco, Sarasota,Milwaukee; and overseas in Rome and Aachen, Germany.

Ms. Vidovic has won an impressive number of prizes and international competitions including first prizes in the Albert Augustine International Competition in Bath, England, the Fernando Sor competition in Rome, Italy and the Francisco Tarrega competition in Benicasim, Spain. Other top prizes include the Eurovision Competition for Young Artists, Mauro Giuliani competition in Italy, Printemps de la Guitare in Belgium and the Young Concert Artists International Auditions in New York. In Croatia, the guitarist has performed Symphony Orchestra of the Croatian Radio and Television, as well as having been featured in three television documentaries by the eminent Croatian film director Petar Krelja. Ana Vidovic comes from the small town of Karlovac near Zagreb, Croatia, and started playing guitar at the age of 5. At age 7, she gave her first publicperformance and at the age of 11 she was performing internationally. She became the youngest student at age 13 to attend the prestigious National Musical Academy in Zagreb where she studied with Professor Istvan Romer.Ms. Vidovic's reputation in Europe led to an invitation to study at the Peabody Conservatory from which she graduated.
Emplacement
Informations
Salles Bougie du Musée des beaux-arts de Montréal
1339 Rue Sherbrooke O, Montréal, QC H3G 1G2
Marc-Étienne Leclerc, étudiant en guitare au Conservatoire de musique de Gatineau, donnera une prestation d'une durée de 15 minutes au début du concert.
Entrée
Tarifs:
Grand public: 54$
Membres du Musée: 48$
34 et moins: 28$
Pour obtenir des billets, cliquez ici!